GSO Alumni Javad Mushtaq among Norway's foremost leadership talents under the age of 35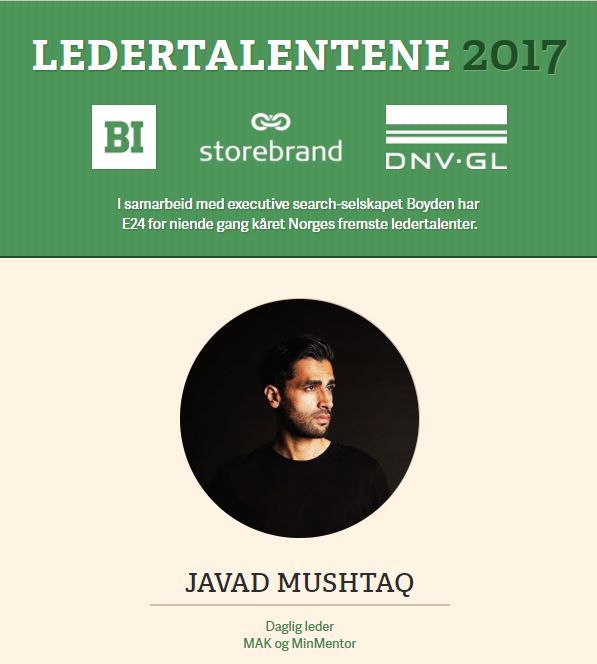 On Friday, this year's selection of Norway's top leadership talents under the age of 35 took place for the ninth consecutive year. The selection has been recognized as the most prestigious designation of leadership talents in Norway and annually lists up to 100 of the country's most outstanding leadership talents.
Curator/Leader of Global Shapers Oslo, Javad Mushtaq, was included among the country's top leadership talents this year and was also ranked as the second best in the "Social Builder of the Year" category. The selection process involves an extensive process of nomination, interviews, and rigorous reference checks from subordinates, peers, and superiors, as well as top executives from the business world.
Mushtaq is actively engaged in several socially relevant initiatives and organizations, including MAK, which works on diversity and leadership with Norway's largest network of young people from diverse backgrounds, MinMentor, which works on reducing dropout rates in high school, and other initiatives.
Here is E24's description of him:
"Mushtaq is a young, socially committed leader, social entrepreneur, and enthusiast with experience from 4 continents, working to create innovative solutions for positive change in the world through various initiatives. He is a graduate in Business Administration from BI Norwegian Business School and works as a Strategy Manager at Aker Solutions, where he has experience from, among others, Malaysia and Brazil. In addition, he has started three organizations that focus on social impact, MAK (Diversity and Leadership), MinMentor (Reducing dropout rates in high school), and a global social impact accelerator program. He is also the Leader of Global Shapers Oslo of the World Economic Forum and was selected as a YTILI Fellow by the US State Department in 2017 as one of 100 young innovation leaders from Europe. He sits as the youngest member on a range of national and global boards and advisory boards."
Global Shapers Oslo congratulates everyone on the list and looks forward to continuing to work actively to create positive societal impact.
November 12th, 2017